The luxury luggage maker unveils two custom designs for Champagne Bollinger and The Macallan Whisky to commemorate 60 years of 007 on screen.
No Time To Die, which was released just over a year ago, pays subtle homage to a number of its predecessors. In the iconic opening credits, gun barrel "dots" take us back to the title sequence in the first Bond film, Dr. No (1962), and there are references to On Her Majesty's Secret Service (1969) throughout the film. In many ways, No Time To Die is in a league of its own. It's unmistakably Bond but the secret agent is more mature, emotionally vulnerable and, ultimately, human. Yet with its lavish location hopping, explosive action sequences and plenty of guns, characters and gadgets, it also showcases the very best of Bond on the big screen.
This year marks the 60th anniversary of Bond's cinematic debut, courtesy of Sean Connery in the aforementioned Dr. No. This coincides nicely with James Bond Day on 5 October; the date of Dr. No's world premiere six decades ago.   
Commemorating the 60th anniversary are two very special releases from Champagne Bollinger and The Macallan that have been brought to fruition through Globe-Trotter's creative and collaborative expertise.
Champagne Bollinger, the long-term partner of 007, has selected the 2007 vintage – a clever nod to 007's champagne of choice – to be displayed in custom-built Globe-Trotter cases. Just 25 jeroboams (a double magnum) of the cuvée have been released, representing the 25 James Bond films over the past 60 years. Each piece is decorated with colourful dots inspired by Dr. No's title sequence, which also feature on the outside of the accompanying Globe-Trotter display case. Numbered 001 to 025 each case is a fully functional 26" two-wheel trolley suitcase. Inside, they feature a precision-cut plush red lining and commemorative plaques. The bespoke lining protects the cuvée in transit, meaning it can be removed and replaced with ease. The limited-edition piece was unveiled at Christie's for the 60th Anniversary auction and is now part of bespoke display that can be viewed at the Bollinger Burlington Bar, in the historic landmark Burlington Arcade.
"Craftmanship is at the heart of everything we do at Champagne Bollinger, meticulous attention to detail and rich heritage made the collaboration with Globe-Trotter the perfect partnership to create an extremely limited collection. Inspired by DR.NO, the 60th Anniversary of 007 provided a rare opportunity to create a bold and impactful collectors' piece, to house the equally vibrant 2007 vintage."
Victoria Carfantan, Director of Champagne Bollinger, Group Bollinger UK & Global Partnerships 
Award-winning Scottish whisky maker The Macallan has been part of the modern James Bond universe as 007's tipple of choice (aside from his beloved martinis). The distillery also chose to create a bespoke suitcase that could be used for travel or display purposes to house its limited-edition expression celebrating 60 years of 007 on film.
'The purpose of collaboration is that you can achieve something you couldn't do on your own,' says Stuart Bertram, global senior creative manager at The Macallan. 'We like to work with brands who are the best in their field. Equally, we want to look as close to home as possible and work with British makers, as we hand-make our products in Scotland.'
Globe-Trotter was a natural choice, and a company The Macallan had been looking to work with for some time. The result is 300 display cases that look (and operate) like a signature Globe-Trotter suitcase from the outside but open to unveil six rare bottles of The Macallan housed in an American oak frame, the same material used for some of the casks which age the whisky.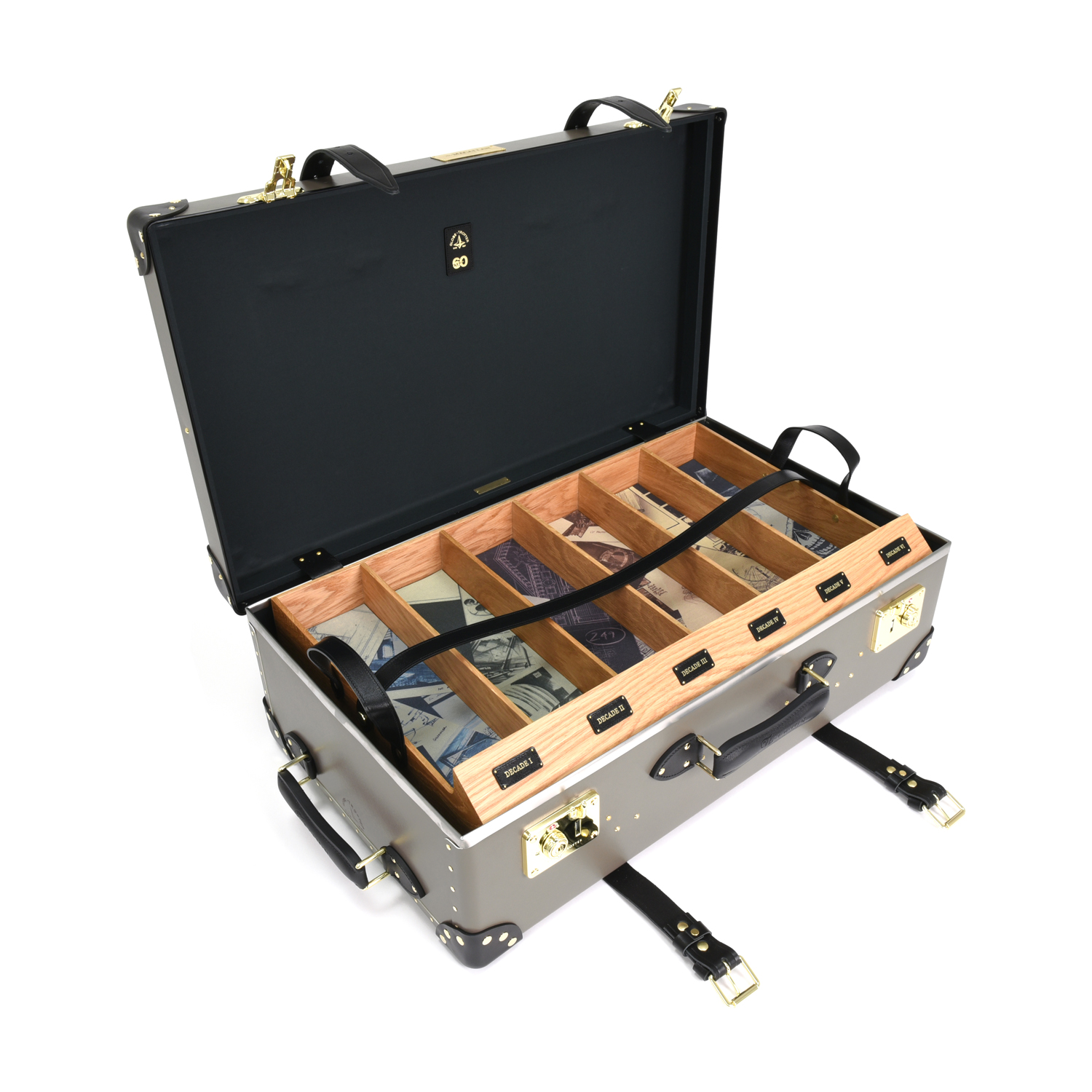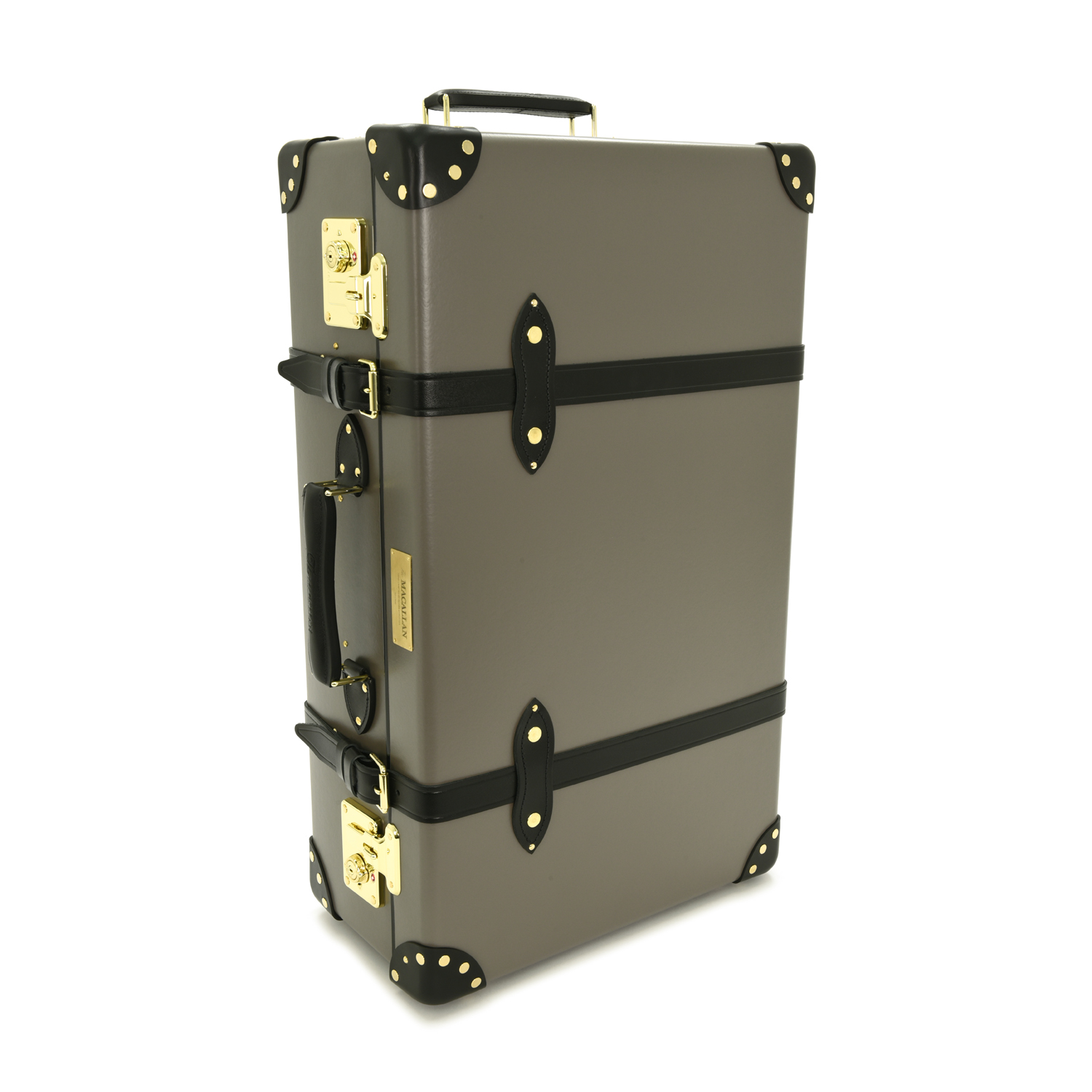 'Whisky has a hugely passionate fan base, many of whom like to collect their favourites as well as enjoy them to drink,' Bertram says.  'Whisky enthusiasts like to display and share their collections, and we wanted an interesting way to display this unique release.'
The six bottles each contain the same liquid, a limited-edition expression created by The Macallan's master whisky maker, Kirsteen Campbell. Working alongside EON, The Macallan team aimed to create a whisky that reflected the character of James Bond, 'should he be a real person'. The six bottles may contain the same liquid but their design – and that of the bespoke case lining – are distinct, containing subtle references to the 007 movie franchise across six decades, with sketches, illustrations and snippets of a script (interestingly from a scene in Skyfall in which Javier Bardem's nefarious Silva sips The Macallan whisky). 
'We like to work with people who do things that are unexpected,' says Bertram. 'Modernity is very important to us, as well as the values and history that Globe-Trotter has and the fact they make their cases in the UK. This was an opportunity to kick off a relationship with Globe-Trotter through this collaboration.'
The Globe-Trotter x Champagne Bollinger exclusive release is available through Bollinger Burlington Bar, POA. Globe-Trotter x The Macallan is also POA and available through The Macallan Online Boutique, The Macallan Estate Boutique, the global network of domestic and travel retail Boutiques, and in premium and specialist retailers and bars in countries around the world. See also 007.com and 007Store.com