Globe-Trotter's Online Custom Luggage Service allows you to create your own unique suitcase from the comfort of your home or on the go. Here, model, actor and mental health charity founder, Paul Sculfor, describes the inspiration behind his design – and shares some of his travel stories.
So, Paul, what do you look for in great design?
Quality. I've seen lots of things that look good but don't wear well. And I like things that are simple, that do what they say on the tin. There's something very appealing about the combination of form and function. I love cars, which come in so many different shapes and beautiful aerodynamic designs; but great cars are functional, too. They perform. And sometimes this functional aspect is apparent in the design – think of the switches on the dash of an E-Type Jag or '70s Land Rover. Form and function – it's the key with cars and any great piece of design.
Is that what you like about Globe-Trotter? The combination of form and function?
Yes, absolutely. And the simplicity. The cases look classic, and they're beautiful, like pieces of art; they remind me of 1950s Hollywood timeless elegance. However, they are great pieces of luggage, too. They're incredibly light and well-made. When I was last in the Globe-Trotter store in Burlington Arcade a guy came in to collect his refurbished case, which he had been travelling with for 27 years. They last.

Tell us about the Globe-Trotter case you have designed. Where did the inspiration come from?
I saw an E-Type Jaguar at the 2010 Pebble Beach classic car auction in California up by Carmel; it really is one of the best car auctions in the world. It was a vintage 3.8 coupé E-Type in the most beautiful green – a British racing green but dulled down. And it had an incredible refurb tan trim. Everything inside was in matching tan: the backs of the seats, the carpets and the dashboard, which had black switches and dials for contrast. The boot opened sideways and the lining inside was again in that caramel tan. The combination of those colours stuck with me as being warm and elegant.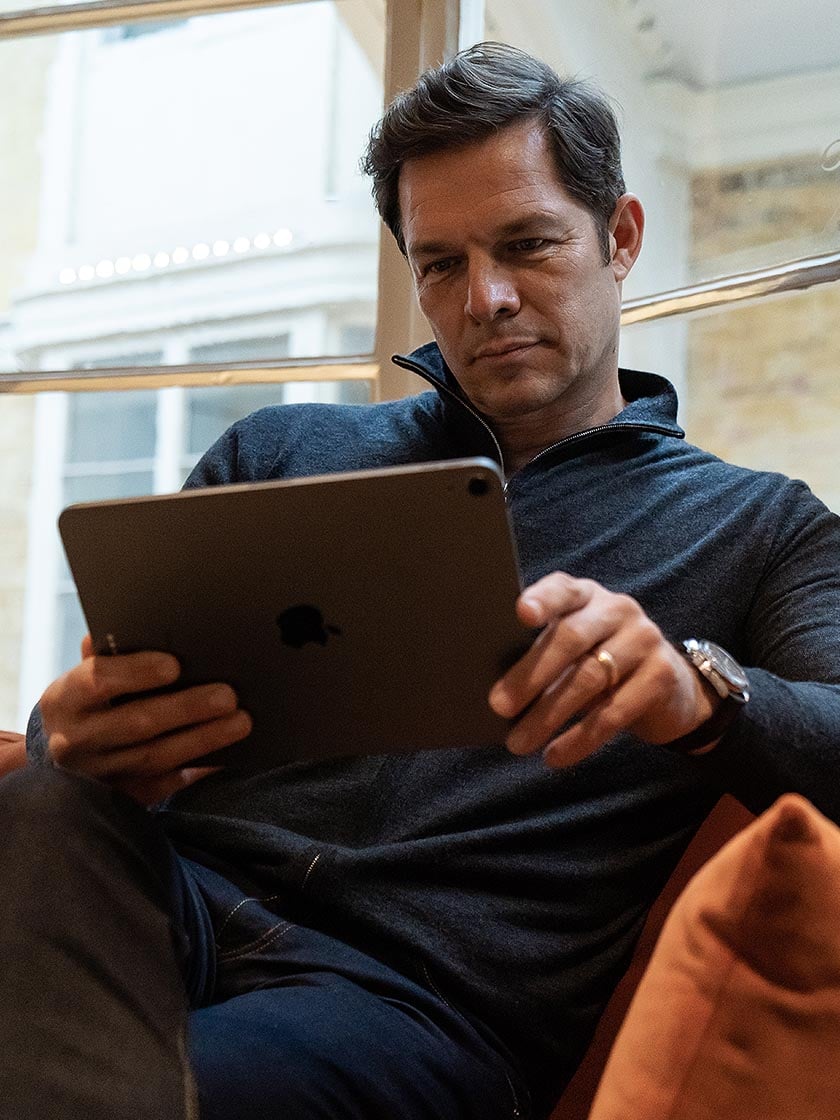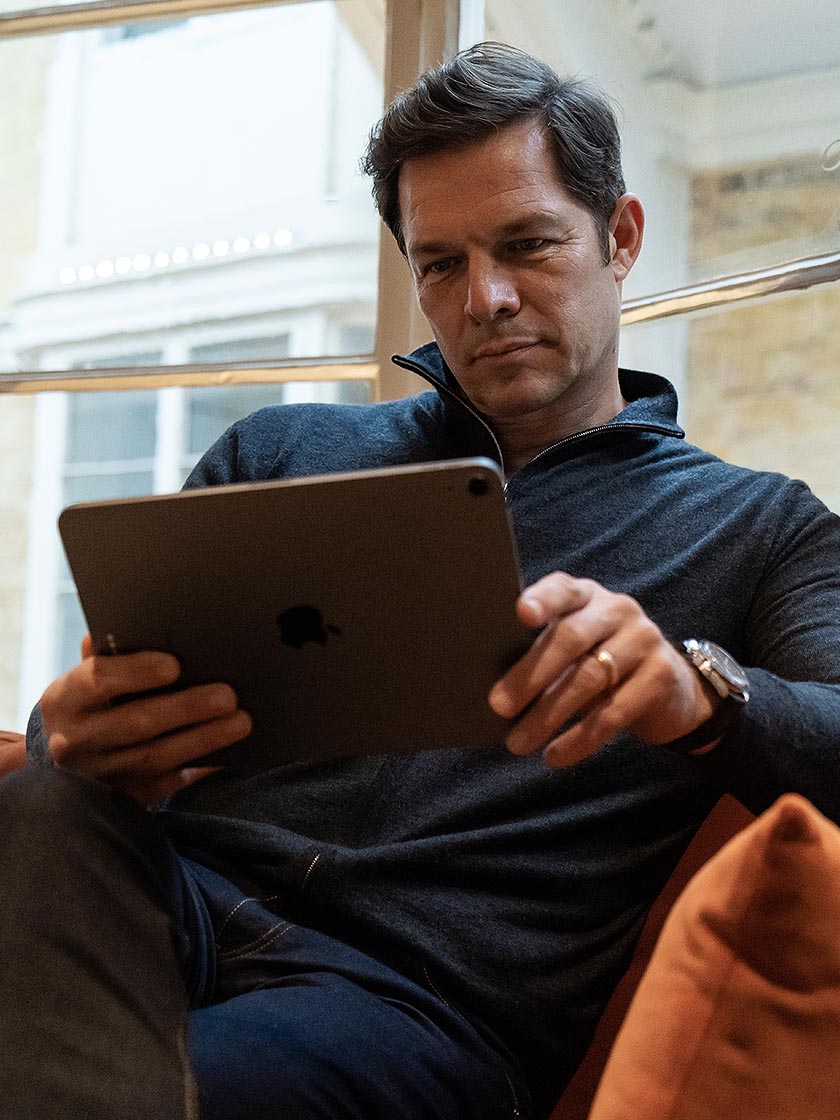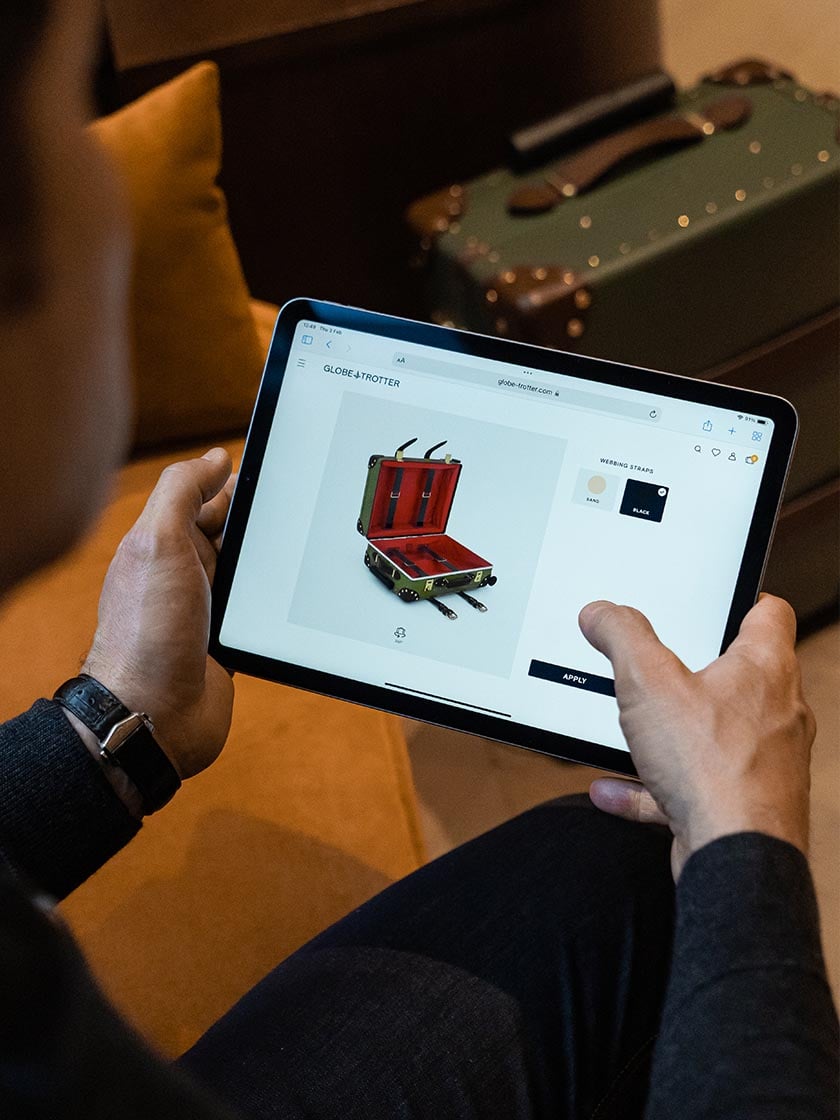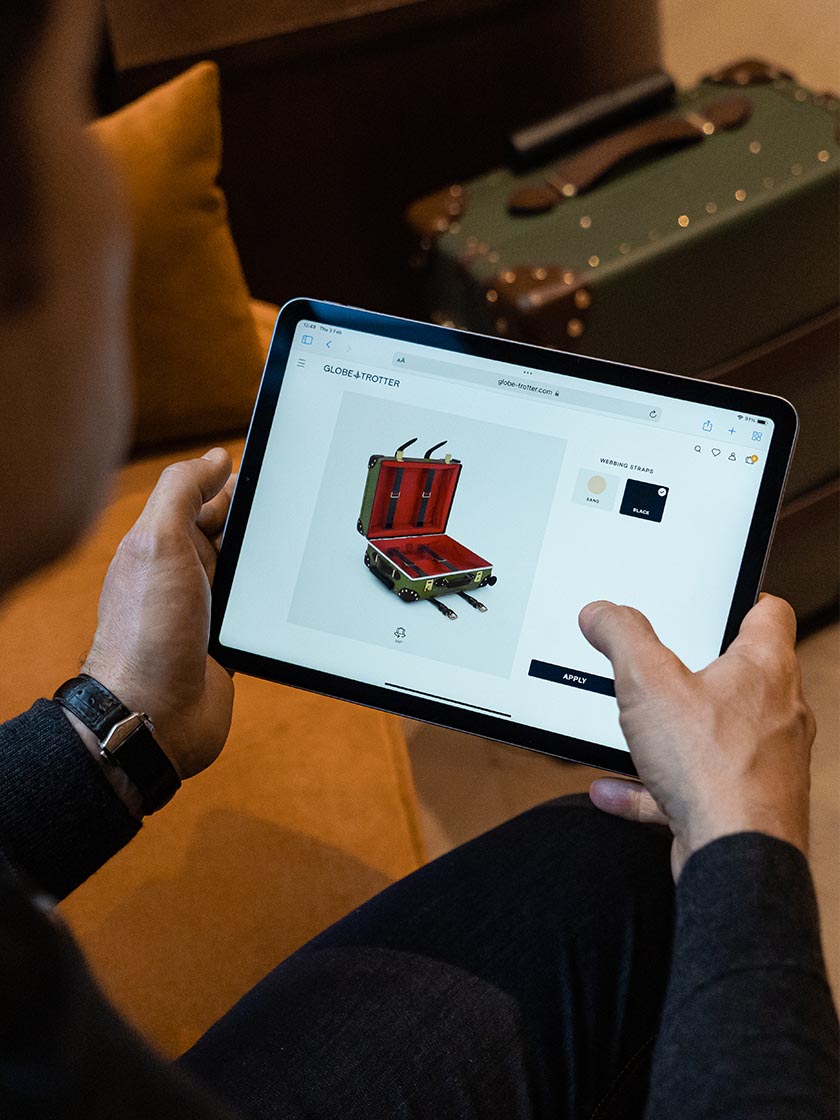 So how are you interpreting this for your case?
Well, it's a nod to that car – with a green body and a caramel interior. I like the idea that you have that robust, strong colour on the outside, which can take a bit of wear and tear, but inside, the caramel herringbone fabric is luxurious. Just opening the case will make me feel happy every time because of the contrasting light-coloured lining. It's also practical to have a bright interior – it means that you can find items more easily thanks to the distinction. Then I had fun with the details: the chocolate leather corners and handle, the gold catches and a thin burgundy finish on the seam of the lid.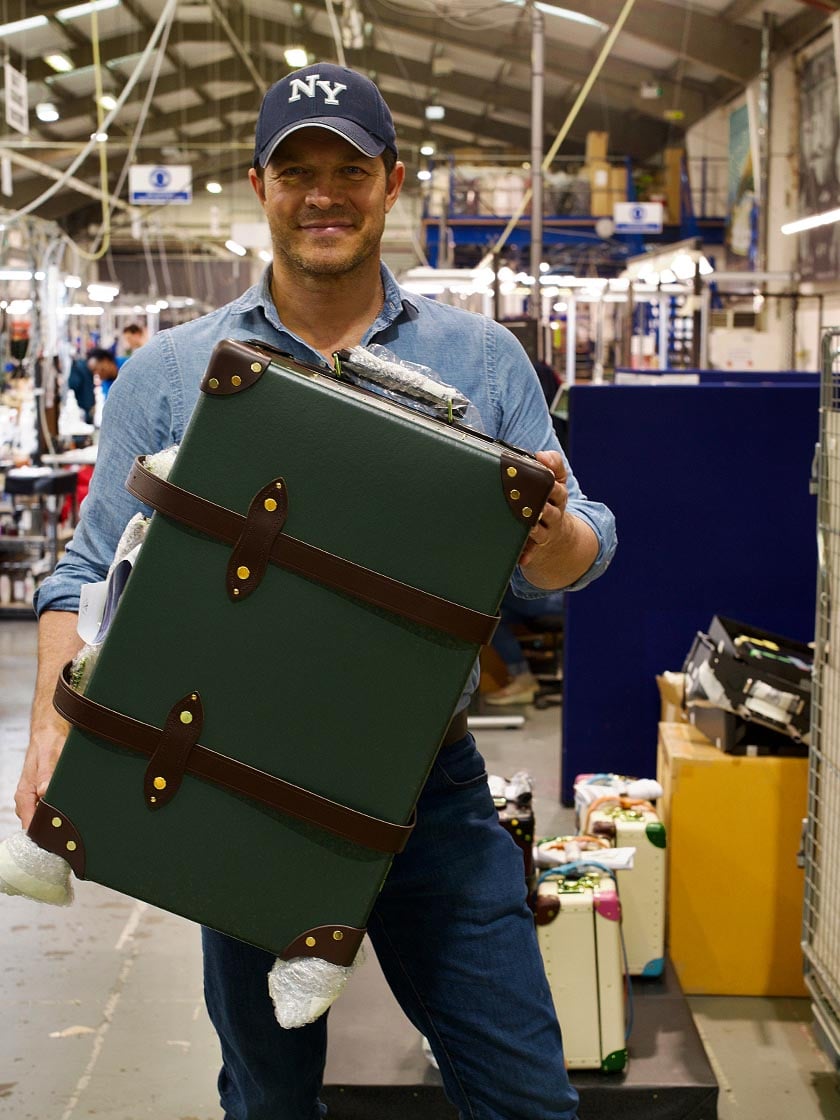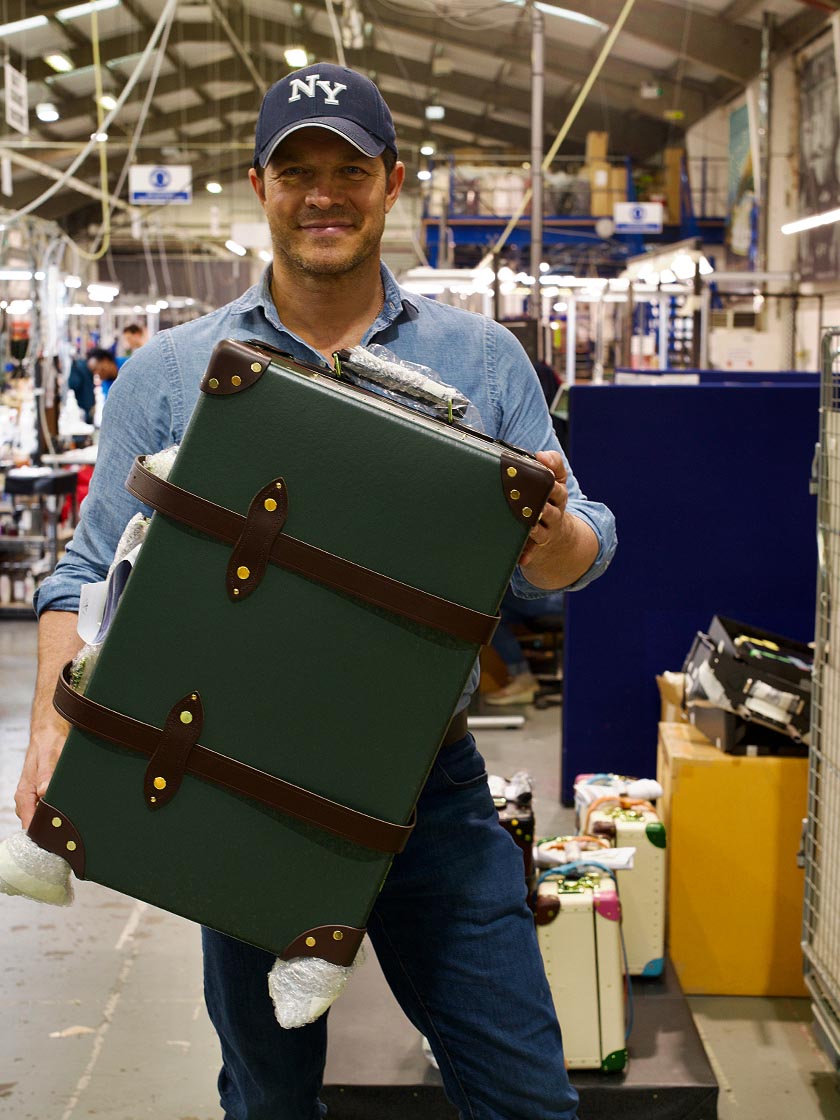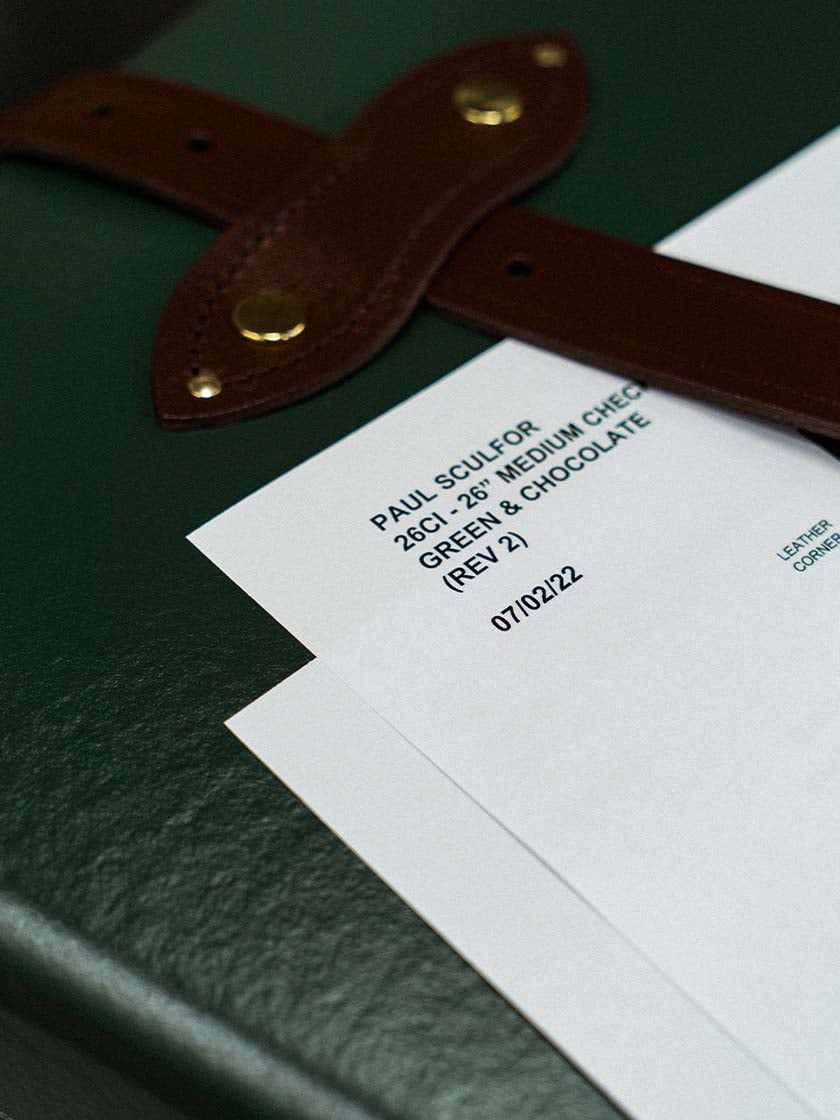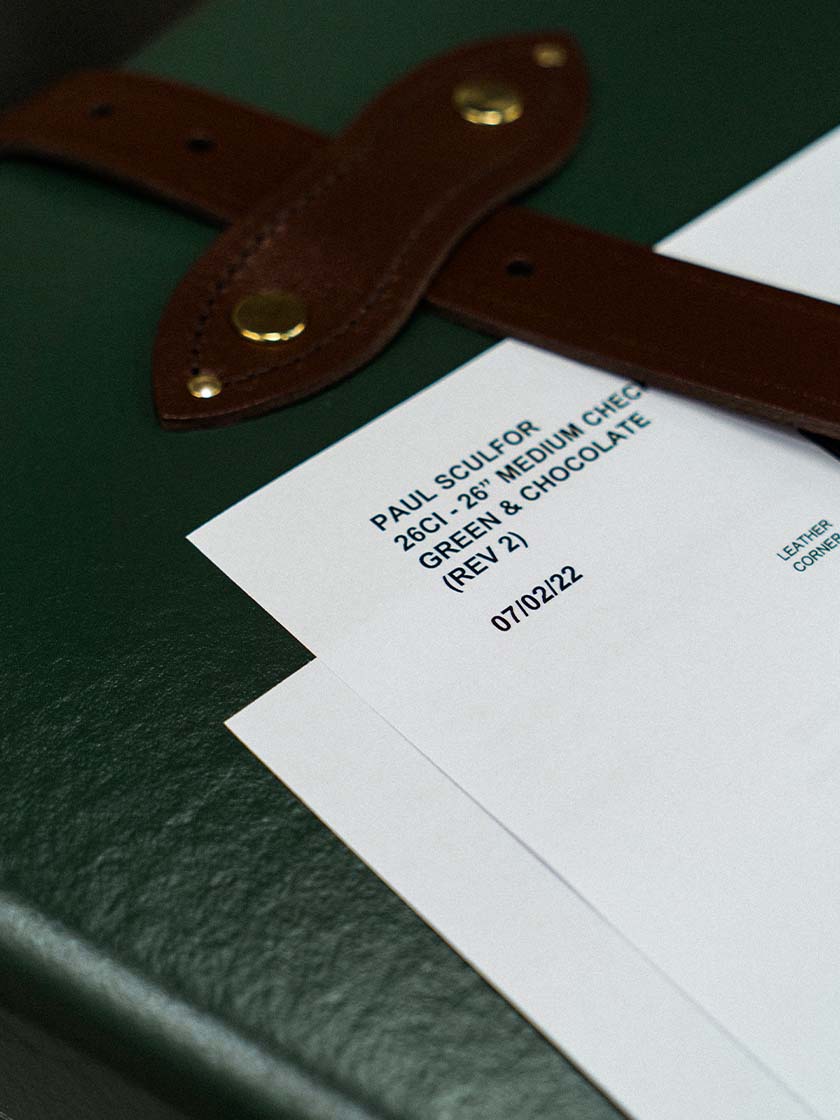 You have travelled all over the world. Do you have a dream destination – a place that you often return to?
I love Barbados and I always go back there. Apart from the obvious – the weather, the sea, the beaches – I love the culture and the people. I love that you can go to Dina's Bar on Bathsheba beach and have great chicken on the skewer sitting at a picnic table one day, and to a stylish restaurant such as the one at the Lone Star Hotel the next. It's an island of contrasts: one side, the east side where Bathsheba sits, is rugged and windy, while Saint James' on the west side, is the classic dream of the Caribbean: relaxed and calm. But for all the beautiful seafront loved by the tourists, there are also some fabulous beaches used by the locals, like the confusingly named Miami Beach in the south. Here, people just get their food from a hut and there are kids running around playing football. I like that I can have such a varied experience in Barbados.
And the place you'd most like to see but have yet to experience?
The place I would really love to visit is Lizard Island in Queensland, Australia, on the Great Barrier Reef. It went to the top of my list as soon as I saw photos of the beaches and the beautiful coral reef, and the fact that it's a pretty remote location.
What about cities? Where's your favourite to visit?
I love New York. I've lived there on and off over the years, and I think if you spend a lot of time there and get to understand it, it feels like lots of small villages put together. The neighbourhoods are so different ­– different atmospheres, food, types of entertainment. At first, New York can be overwhelming, but if you get to know it, it's a wonderful city. I used to like being in the middle of Central Park in the summer, but my favourite district is where I lived – just below Union Square where there are some really nice brownstone buildings and cafés.
Can you tell us what your most adventurous trip was?
That's easy – it was to Argentina on a job. I was making a commercial for De Beers diamonds, and when I met the art director on the campaign he showed me this picture of a tree from an edition of National Geographic magazine. That was what he wanted to use as a backdrop, and it was in Argentina, near Chile, in Patagonia. To get to this tree we had to use the army. It was snowing, and we had to ask for military transport with tracks to tow us there. We got snowed in, and there was really not much to do in this remote place. I remember it had a prison and a church and not much else. I had made friends with one of our drivers, whose father happened to be the local mayor, and he asked if I'd like to go exploring with him on motorbikes and horses. So while everyone else on the crew went to the casino – there was one of those there too – I had a great time in the wild. Argentina is such an interesting place. Did you know, just south of where we were, there's a town that flies the Welsh flag where they speak Welsh and Spanish?
Where is the best hotel you have ever stayed in?
In Barbados there's a villa you can rent. So it's not strictly a hotel, but it's the place I like to stay. It's called Fustic House, and was designed by British artist Oliver Messel, a beautiful place. The pool is built into the rocks and the property looks over the St James' side of the island. If you walk out of the back gate there's a little village where you can buy fish and beer. It's on an estate of 11 acres and has gardens with mahogany trees. It's a very relaxed place where everyone wears shorts and T-shirts and rides bicycles.
Where have you had your best-ever meal on a trip?
There are two that spring to mind. One was in Rome, where a friend of my wife's has a restaurant on a boat on the Tiber river in the centre of the city. It's called Baja and is run by a brother and sister. She used to have her own pirate radio station in New York, a real character, and when you go to Baja she simply brings out what she's cooking and it's honestly the most amazing Italian food. The other meal I will never forget was quite a weird experience. I was staying in a spa hotel in Japan in the mountains and the person I was with knew the famous Japanese chef Nobu. One day we bumped into him in the corridor of the hotel and he invited us to lunch in his house, which was next door. We just walked over in flip flops and kimonos, and he cooked for us. I remember that in his kitchen the floor went down into spring water, so we sat with our feet in it.
Where is your favourite bar in the world?
Harry's Bar, Venice. Before I went there, I thought it was going to be an opulent place, because of its reputation. But it's so low-key and simple. A cocktail there is a real treat.
What is your preferred mode of travel transport? Is it driving yourself in a great car?
One hundred per cent! Driving anything – a van, a car, a motorbike. As long as it's got power. My first-ever car was a Ford Capri three litre GXL in a horrible shiny blue that it had been resprayed in. I bought it when I was a teenager and I've never looked back. I love to drive – unless I'm really tired, when it's nice to be driven. It's about the road – the sense of freedom that I feel; and empowerment as you appreciate being in control of a vehicle. I'm always struck by how good it feels to think you can point it in any direction and just set off. For me, driving is like a form of meditation – if you're driving you should be completely present in the moment and fully aware of what's around you. I've also got a funny thing about the sensation of acceleration and taking corners. These are genuinely some of my favourite feelings.
We know you've owned lots of cars and bikes, but what would be your choice of vehicle at the moment?
Right now, it would be a 1971 Ford F150 Pickup. And if I was feeling really flush, I would definitely go for the Ferrari 250 GT short wheelbase from the 1960s. I've driven one and it was mind-blowing!
What's your favourite drive?
Probably the Pacific Coast Highway in America. There are stretches near Santa Barbara and around Carmel and Big Sur that are breathtaking. It's really, really beautiful, as if you are in some Jurassic movie. It's my favourite place to drive slowly.
What's your chosen driving playlist?
It depends on my mood. I have very varied taste – it could be Biggie Smalls' Juicy, or Charlotte Church singing Pie Jesu. But though I do like to play music sometimes, if the car engine note is really nice, I'd rather listen to that. The engine can sound so good – like in an old E-Type Jaguar or Aston Martin DB5, for example.
What is your packing style?
Organised, for the simple reason that I've been travelling for so long, that I know exactly what I want and what I use. I have a system where I roll things up to get the most in. It's so automatic now, it's not even conscious.
What do you always pack for a trip?
I've got a strange thing about taking lots of underwear! Just in case… But then there's a well-worn list: one pair of smart shoes and one casual that can also be used as gym shoes; one pair of black, beige and white socks; two pairs of jeans and one pair of trousers in a neutral colour that will go with everything; two white, two black and two grey T-shirts; N.Peal knitwear – cardigans and zip-up tops – in three colours; and a sporty jacket in a neutral colour, such as a bomber. That's the standard foundation. Oh, and a plug adaptor, of course.
What are the luxuries you never travel without?
I always take my own Marmite. I even have my own personalised lid for the jar. But actually the real luxury is my iPad. When I used to travel years ago, I'd have to take coins for the phone – different ones for Milan and Paris, for example. With an iPad you can speak to anyone at any time, including, most importantly, your family. And you can watch a movie on a decent screen size, or send an email. People take it for granted these days, but after years of travelling when communicating with people back home was difficult, the privilege of talking to who you want, when you want and how you want is really a luxury.
What is your go-to travel outfit?
On a plane, these days I wear Aviator jeans from California. They're brilliant because they stretch, are so comfortable and don't go out of shape. They also have zip pockets for your passport and cards. I'll take an N.Peal cashmere hoodie, and a soft T-shirt and wear trainers. It's all about practicality and comfort when flying. If I'm driving, it's the same, especially if I'm to be at the wheel for any length of time. I'll need stretch jeans again, and a gilet or cardigan over a T-shirt. Weirdly, I don't like driving with bare arms! And in a car, I'll wear a narrow trainer shoe, like a high-top by Ecco. On a motorbike my go-to is light merino wool underwear and a merino wool base layer, both by Icebreaker, and then leather trousers or Kevlar-reinforced jeans for protection, and either a protective body kit with a canvas or leather jacket on top, or my Kevlar-reinforced Ducati leather jacket. And motorcycle boots and a helmet, of course!
Paul Sculfor is a model, actor and also runs a charity, Stride Foundation, to help people to recover from addiction. He lives in London with his wife and two children.
Paul used the Globe-Trotter Online Custom Luggage Service to create his dream suitcase, which was then handmade at our factory in Hertfordshire, England. This online service allows you to create a bespoke case – choosing everything from body, lining and interior colours to size and style of locks and buckles.
Create your own Globe-Trotter here or visit us in-store at the Globe-Trotter London Flagship at Burlington Arcade to talk to one of our dedicated advisors about creating your custom case.
Newsletter Signup
Sign up for our exclusive newsletter to unlock insider access, travel inspiration, VIP events, and expert tips.