After a previous sold-out collaboration, Globe-Trotter has once again teamed up with the luxury horology platform to create two exclusive watch cases.
When it comes to travelling with your most prized possessions, there's a case to be made for Globe-Trotter. Indeed, the late Queen Elizabeth II transported her valuables in a Globe-Trotter suitcase on her 1947 honeymoon. One of these was the sapphire chrysanthemum brooch she wore for decades during public appearances such as her final Christmas speech in 2021.
Those with penchants for luxury timepieces no doubt cherish their collections as Her Majesty did that famous brooch. This is in part why the 10-Slot Watch Case created for Globe-Trotter's previous collaboration with Hodinkee, the horology media and retail platform, sold out almost immediately. Now, the brands have partnered again to create two new watch cases exclusive to the Hodinkee channel.
A representative of Hodinkee commented: 'After the success of the Globe-Trotter Limited Edition 10-Slot Watch Case for Hodinkee, our team began thinking of what was next. We decided to take the foundation of the 3 and 6-Slot Watch Cases Globe-Trotter has already designed and adjust them slightly for those who travel.
These cases are designed to hold tools you would commonly use for your watch – strap-changing tool, pocketknife, loupe, etc,' they continued. 'To keep them in place during travel, there are tool-specific straps available within the tray. We have removed the handle and reorganised the layout of the case so that it can conveniently fit in a weekend bag, suitcase (made by Globe-Trotter, of course), or a tote.'
The 6-Slot Watch Case has the unusual design detail of a valet mat positioned under the tray that can be used for displaying a watch outside of the case, or as a soft place to change your strap.
'All of these details are for those who are passionate about watches and desire to grow their collection or find a place for their current collection to rest.'
Fitting homes for haute horlogerie of the kind throughout the Hodinkee Shop's offering, these new transport solutions are themselves lifelong investments defined by excellent craftsmanship.
Like many other Globe-Trotter cases, their bodies are made of Vulcanised Fibreboard. At the beginning of the 20th century, the brand did well to patent the material's complicated production process. 14 sheets of recycled paper, cotton and wood pulp are vulcanised (or bonded), saturated in a special solution, and compressed.
The end result is a lightweight material whose robustness has long been proven. Over a century ago, an elephant was used to test the durability of a Globe-Trotter trunk. Advertisements in 1912-1913 featured photographs of a surreal experiment in which the mammal stood on one at the Zoological Garden of Hamburg.
While the anecdote adds weight to the argument that these new attachés are perfect for protecting your watches, they also possess the sophisticated aesthetic for which Globe-Trotter's range is renowned.
The Globe-Trotter Original suitcase which accompanied 007 through Morocco in Spectre was made of brown Vulcanised Fibreboard designed to reflect the desert setting of Blofeld's lair. In a similar vein, Hodinkee's signature grey provides the backdrop of these new attachés' natural colour palette. Hodinkee's representative said, 'Grey is a colour that we commonly use and has become a thread throughout the brand and history of Hodinkee.'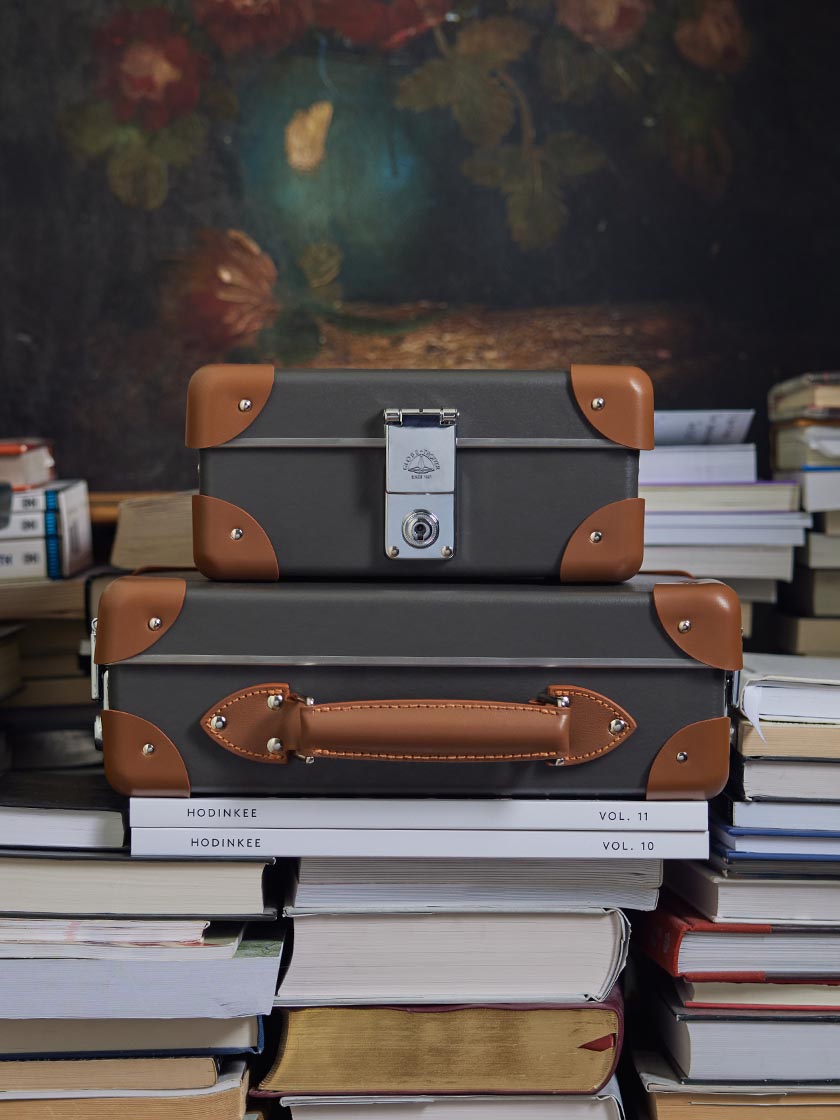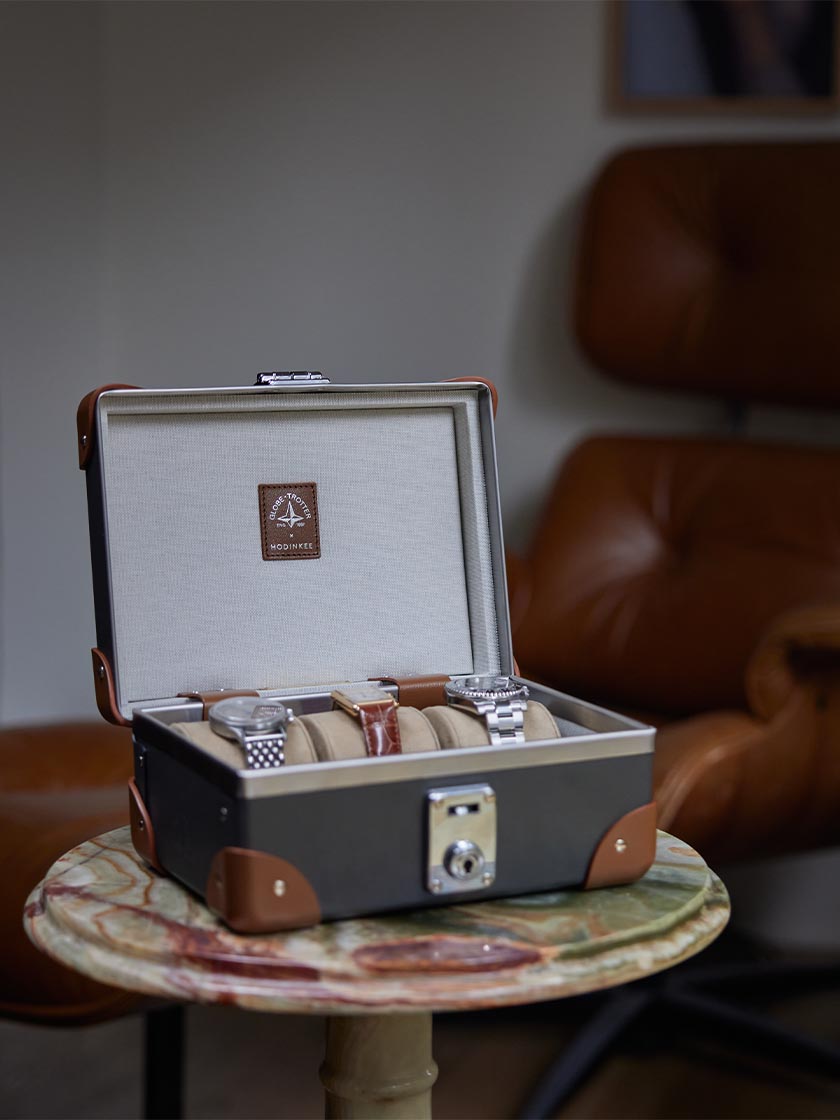 Nickel lipping, locks and hinges are harmonised with the Anthracite Chamel®, which coats their interior bases (anthracite being a dark coal variety with a submetallic lustre). These metallic elements are complemented by the earthy taupe of Nature Chamel®, which covers the foam cushions and valet tray, in addition to caramel leather detailing throughout. A timely new addition to your travel wardrobe.
The limited edition Globe-Trotter x Hodinkee Watch Cases are available exclusively on the Hodinkee Shop. Discover Globe-Trotter's collection of 3, 6 and 12-Slot Watch Cases online and at Globe-Trotter Flagship stores in London, Tokyo and Los Angeles.
Newsletter Signup
Sign up for our exclusive newsletter to unlock insider access, travel inspiration, VIP events, and expert tips.