In the latest in our series about much-loved and much-travelled Globe-Trotter suitcases, we talk to multi-award-winning writer, adventurer, historian and broadcaster William Dalrymple about adventuring with his trusty Globe-Trotter luggage.
For most of the year, William Dalrymple lives on a farm outside Delhi in his adopted country, India. He has been writing prize-winning travel and historical books ever since his 20s. After graduating from Cambridge, he walked Marco Polo's route from Jerusalem to Mongolia. This resulted in the bestselling In Xanadu: A Quest, written when he was only 22. Since then, his life has been one of continuous globetrotting, and here he tells us about his adventures with his 'family' of Globe-Trotter cases, including his favourite, an 18-year-old orange suitcase.
"My Globe-Trotters always come with me, wherever I go, often to rough-and-ready places. They get knocked about, and they have survived where many lesser cases wouldn't."
How many Globe-Trotters do you have?
I now have a considerable family assortment of Globe-Trotters – eight in all. And they vary from very old-fashioned ones to relatively modern ones.
Tell us about your first one…
I actually don't know where my first Globe-Trotter is anymore. It was the case I used when going backwards and forwards from Scotland to boarding school in Yorkshire. That was a basic case, without wheels and straps; no mod cons, no fancy colours. It was grey. But it was how I travelled, and I have always travelled in the same way. My Globe-Trotter is the first thing I associate with the idea of travelling; in fact, packing a Globe-Trotter has been the most constant thing about travelling for me.
What is it you like about Globe-Trotters?
Well, I know that today Globe-Trotters are used by many very stylish people, and I know too that around 15 years ago the cases started to get upgraded with fancy new wheels and handles. A Globe-Trotter ceased to be something of a functional traveller's appendage and became a style icon, available in all sorts of dramatic colours. But for me, the appeal has always been about how incredibly practical they are. I have been at different times a travel writer, journalist, historian, foreign correspondent, and photographer, and have lived most of my adult life in India. My Globe-Trotters always come with me, wherever I go, often to rough-and-ready places. They get knocked about, and they have survived where many lesser cases wouldn't.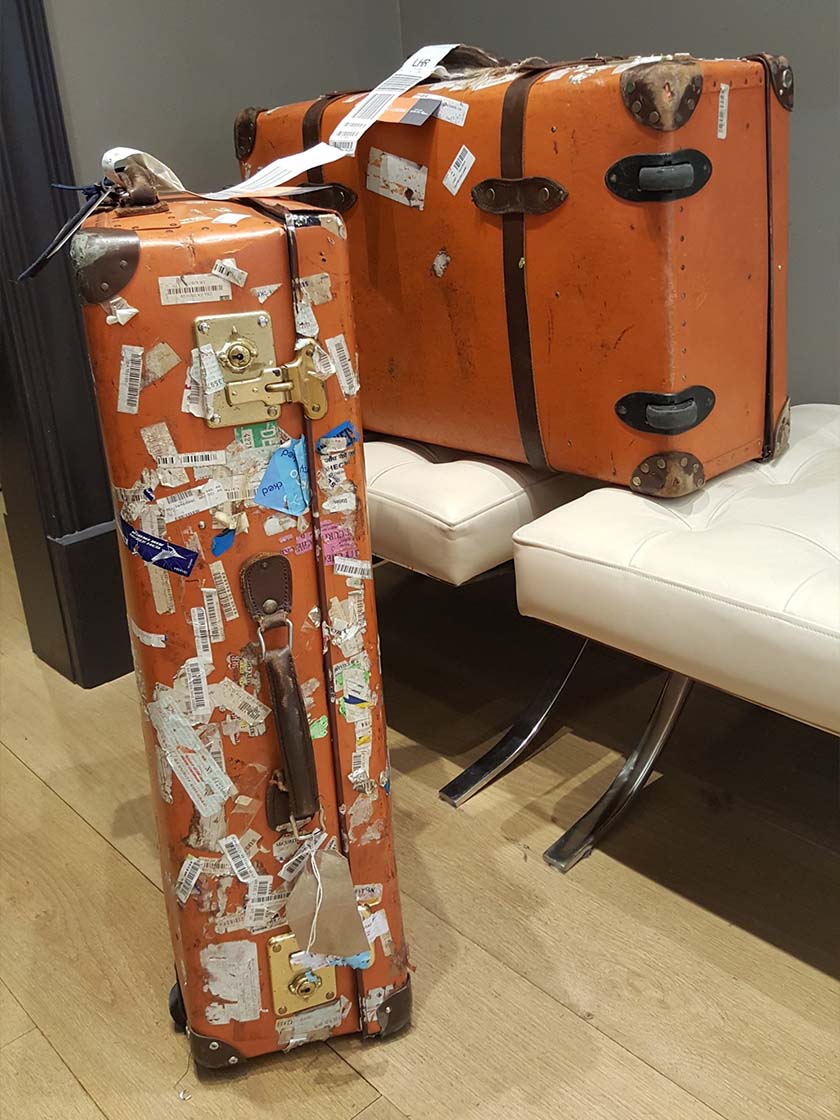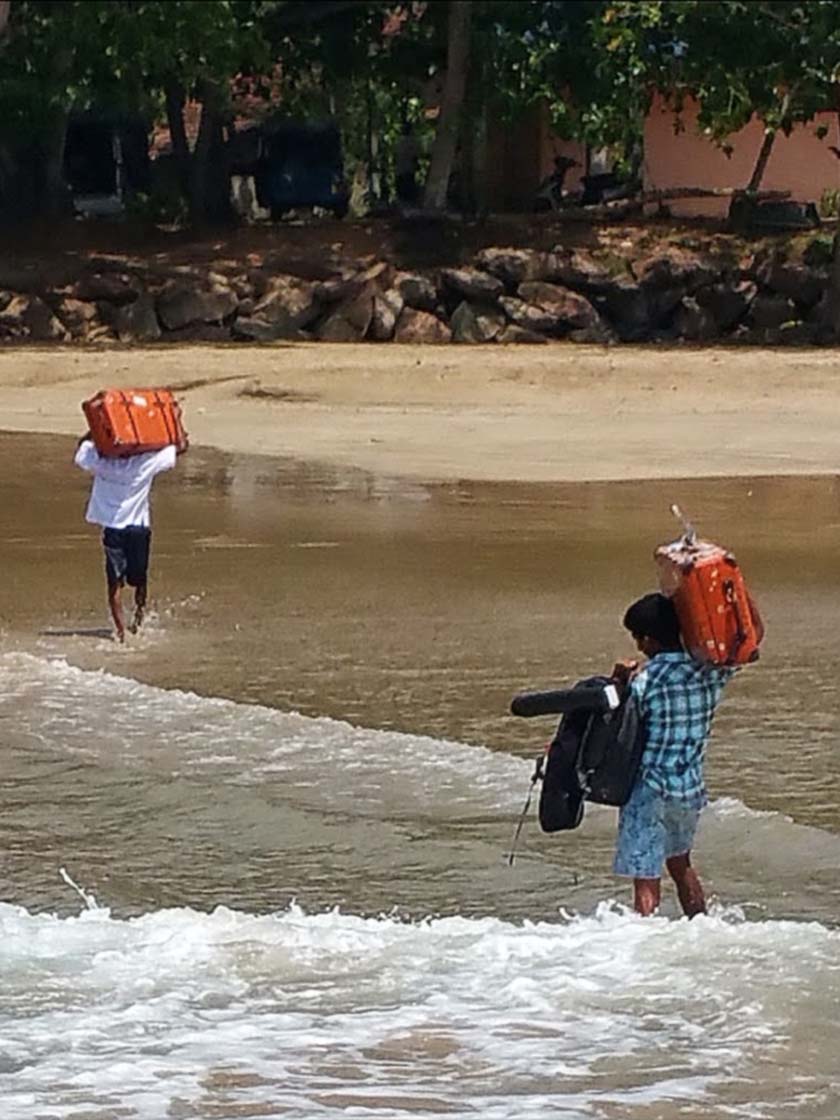 Do you get them repaired?
Absolutely. Globe-Trotter has this incredible repair service, where I bring a case in like some wounded beast and it is beautifully mended, giving it a wonderful, eternal life. This happened recently with my favourite – an orange case I bought in 2003. At first, I thought it was simply too badly damaged for anyone to attempt a repair – not only had one of the locks gone, and two of the corner patches were missing, but it had been knocked entirely askew in Afghanistan. But it had a refit at the factory and what came back was astonishing. The craftsmen at Globe-Trotter had completely renovated the inside but had kept the outside looking the same – with its over-a-hundred exotic-looking stickers. So, while it was as good as new, it still had the magnificent look of a war horse, like some old, stylish Hollywood icon who is beautiful in old age despite having seen a lot of action over the years. This was the work of loving craftsmen who understand the appeal of the patina of age, the importance of preserving the lineage of wide travels; they restored my case as if it were an old painting.
What's the worst treatment your Globe-Trotters have suffered?
Well, they've been bumped around in Jeeps plenty. But I was once flying in Afghanistan to Herat, and to give you an idea of what that was like, when I checked in, I was given a boarding pass that said Riyadh, which is in Saudi Arabia. They said, "Don't worry, sir, it's just a pass!" So, I got on the plane and when we landed, the pilot and the cabin steward just dumped the luggage on the tarmac of the runway. The main airport was locked – I think it was Friday prayers – so I was left standing there scratching my head, wondering what to do. A few minutes later there was this rumble, like the sound of an army of tanks, coming towards us, and a regiment of boys appeared in the distance pushing wheelbarrows. These were the luggage trollies at Herat airport! My Globe-Trotter was wheeled off in one of the barrows and then dumped into the boot of a 1930 Chevrolet, which is what serves for a taxi in Afghanistan. We then set off on our adventures, dodging Taliban ambushes along the way.
"...some chaps appeared and put my Globe-Trotters on their shoulders and carried them through the water. That's what I call true luxury."
And what's the most luxurious treatment they've experienced?
On my 50th birthday I decided to go and stay on Taprobane Island, which is one of the most private islands in the world, just south of Galle in Sri Lanka. It's beautiful, and where the writer Paul Bowles used to live. The thing about reaching Taprobane is that there is no causeway; you have to wade through the waves to get there. So, some chaps appeared and put my Globe-Trotters on their shoulders and carried them through the water. That's what I call true luxury.
What's your packing like?
As I have used my Globe-Trotters all my life, I have developed a superstitious thing about how I pack them. My books go on a pile on the left, my clothes on the right, wash bags and shoes at the front next to the catches. Because the case is rectangular, I know where everything is when I open it – where my socks will be. It's become an unspoken tradition, part of the order of how I travel. Not being a soft bag, you can plan these things.
Do you put the case in the hold or carry it on?
Both. I have one of the small carry-on suitcases that I use for my travelling books and my laptop. It's tough enough to keep a laptop safe and the size is perfect for books. I use a set of three old-fashioned card indexes when I'm writing, and they fit perfectly too – a whole load of books on the left, card indexes on the right, a reading stand along one edge and a laptop on top. A complete writer's kit comes with me. I sometimes wonder whether I have changed how I travel to fit my Globe-Trotters, or whether they just happen to fit my travel habits? But I cannot now imagine travelling with any other luggage.
And what is your favourite case?
The orange one that has been restored is my normal go-to companion. As a travel writer I've pretty much covered most of the world, and it has been at my side. It's been to the Bamiyan Buddhas, to North Africa, round Algeria, to Egypt, Angkor Wat, Sydney, through Indonesia to Bali, and the Caribbean. I like the colour – when it arrives on a luggage carousel off a big flight from London to Delhi, my marmalade stands out from all the black canvas bags that are so similar. I now have a little family of three marmalade ones, which are my favourites, all in different sizes. They look very nice, like Russian dolls, and they do feel like a family. My older ones, which I still use when I have to move lots of things – as a writer, I travel with many books, almost always with a whole library – are more old-fashioned and in navy blue. One has my initials on it from university days, now faded.
"I can honestly say that I have been complimented on my Globe-Trotter orange suitcase
 more than on anything else I have ever owned."
And do people notice your luggage?
I can honestly say that I have been complimented on my Globe-Trotter orange suitcase more than on anything else I have ever owned. I know other travellers, too, who love the way they look. One Pakistani friend, who was a minister in Benazir Bhutto's cabinet, had a set of immaculate ones in a café colour, the absolute opposite of ones like mine that parade their battle honours. But I love the way my orange one looks. Which is why I was so thrilled when Globe-Trotter consented to mend it, despite it being very beaten-up. I was so grateful that when I collected it, I posted a picture of it on Twitter, and was surprised to see how many writer friends of mine were also Globe-Trotter fans.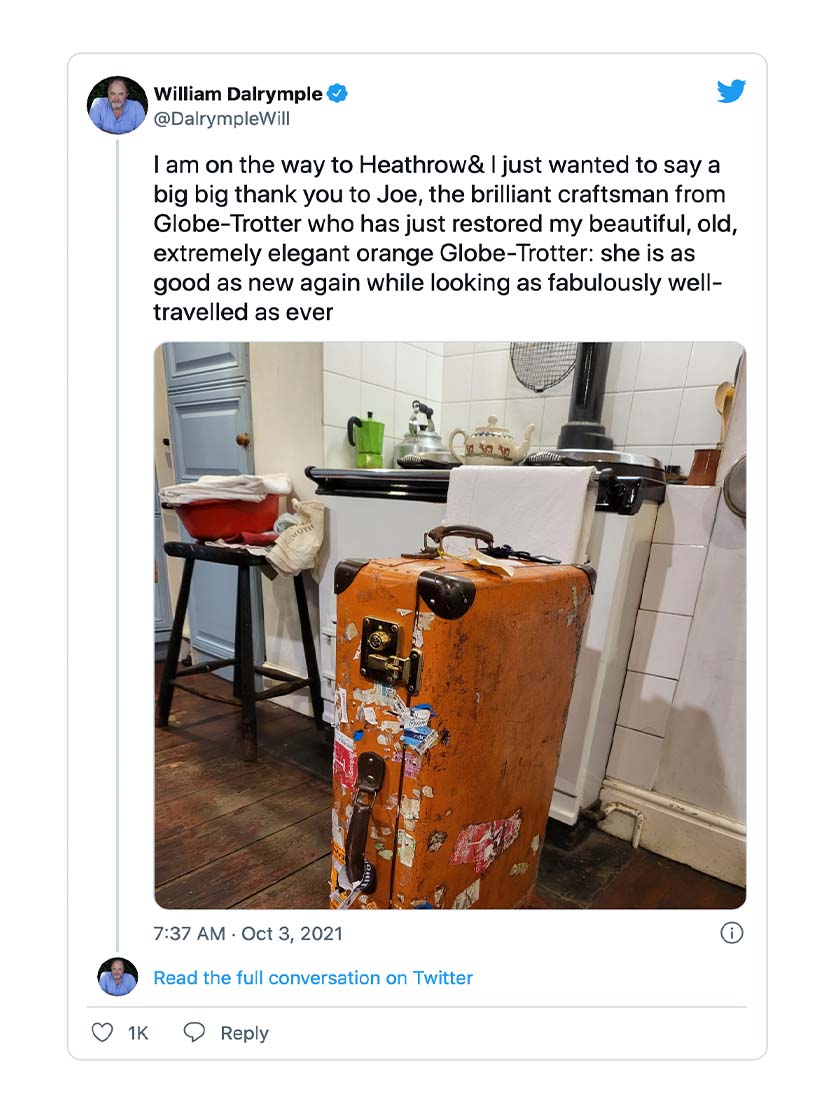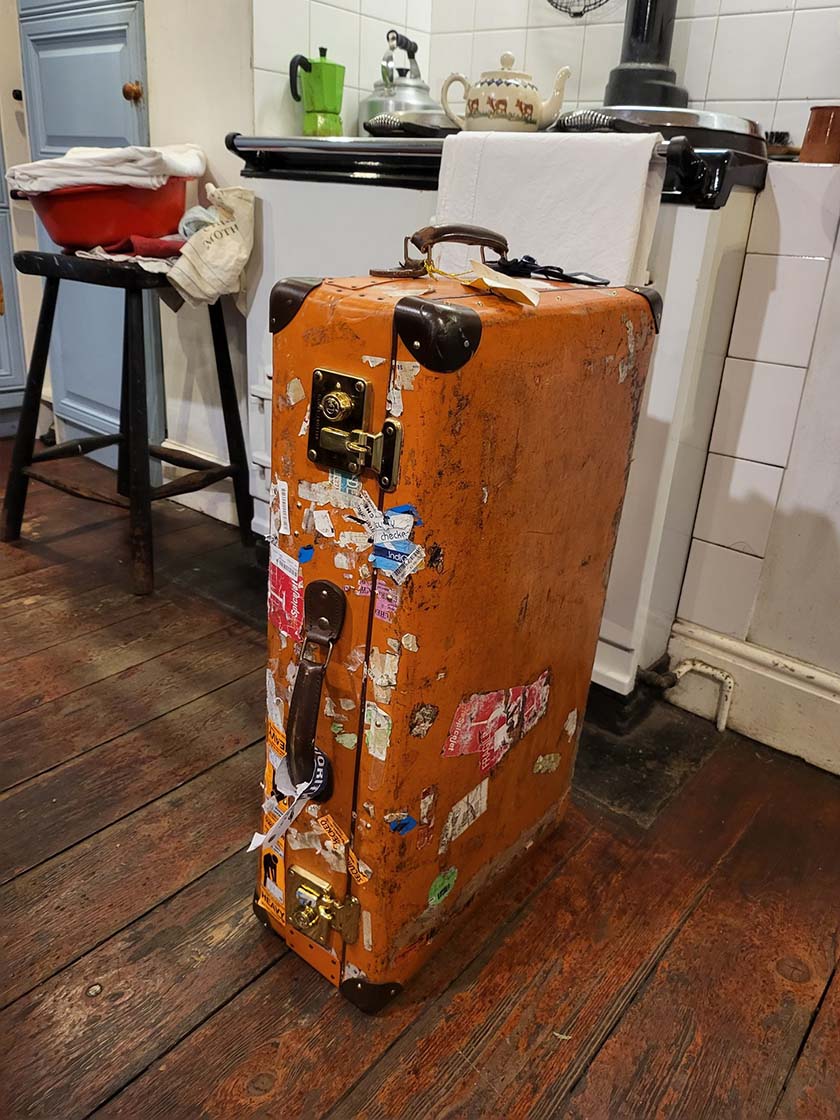 Like whom?
Well, Elif Shafak, who was shortlisted for the Booker Prize and is a widely respected Turkish writer, responded that she always thought Globe-Trotters were a work of art. And Simon Schama, the historian, told me he always travels with Globe-Trotters, too, when he's filming one of his programmes about civilisations and the history of art. You see, as well as the stylistas, there's a dogged crew of writers out there who feel they have to have a Globe-Trotter. It's like my own Scottish nanny used to say: "You can't afford a cheap buy".
And where are you off to next with your orange Globe-Trotter?
I'm off back to Delhi soon and from there all around Southeast Asia. It sounds romantic – and I do like to go to romantic, historic places – but as we all know, travel can be extremely frustrating at the moment. That's where Globe-Trotter comes in. At least one knows that one's luggage is in safe hands – it's not going to break open, even if it is Afghan Airlines carrying it. It's safe and secure because of the straps, not just terrific to look at. But that it is too – covered in the patina of love and age, clearly an object that has been around the globe, and adding a little colour to the journey.
William Dalrymple's books include The Anarchy: The Relentless Rise of the East India Company; Return of a King: The Battle for Afghanistan; and The Last Mughal, The Fall of a Dynasty, Delhi 1857.